The Next Meeting of Lodge 456
Will be the Christmas Social 
At the Royal Canadian Legion Trafalgar/Pro Patria Branch 
411 Gorge Road East
December 12, 2017 at 5:30 p.m. 
We hope to see you there.
Door prizes will be drawn at the conclusion of the business meeting
Refreshments will be served in the entertainment room after the meeting
---
Airbus-Bombardier and guaranteed jobs until 2041
Montréal, QC – "The finest aircraft to be have been developed in the past 30 years is now affiliated with a major global aircraft manufacturer," said IAM Québec Coordinator David Chartrand. He was reacting to news late yesterday that Bombardier had sold a majority stake in its C-Series passenger jet program to European aerospace giant Airbus for no cost.
"A major player has now entered Québec's aerospace cluster, and we intend to do our part to make sure that it benefits the whole of Québec's workforce and economy," said Chartrand. The move comes after heavy duties were imposed by the U.S. Commerce Department against Bombardier, charging the Canadian aerospace giant was selling its C Series planes in the U.S. below cost while receiving government subsidies. The C-Series headquarters, Research & Development and production will remain in Montréal but a second assembly line for the 100-150 seat aircraft will be set up at Airbus's facility in Mobile, Alabama. This move may circumvent the duties imposed by the U.S. Commerce Department.
"It's clear that our members were feeling the pressure with the uncertainty hanging over the program," said IAM Canadian General Vice President Stan Pickthall. "We now have a strategic alliance with a major global manufacturer that guarantees the jobs of our members in Québec until 2041."
"Bombardier has tried over the past few years to achieve a strategic partnership," explained Chartrand. "They were unsuccessful in the past because the aircraft didn't have certification then, now it's in production and has won praise from customers, so the partnership was acceptable. We will benefit greatly from access to Airbus's supply network where we can purchase materials for less than we can now, and it gives Airbus the best product in the world in its class to offer to its airline customers. The partnership with Airbus makes us strong enough to weather the protectionist storms of the American market, keep a number of jobs in Québec and maintain the cohesion of our aerospace cluster."
The IAM represents more than six thousand employees at Bombardier.
Editor's note. Perhaps Boeing will not have to keep up their ad campaign about how much they love Canada
18/10/17
At the October meeting the lodge had its elections for its new executive and Sister Heather Hunter as been elected as the Lodge President. All other table positions were returned by acclimation.
Congratulations to Sister Heather and best of luck.
17/10/17
---
Machinists back a winner – Singh takes NDP leadership!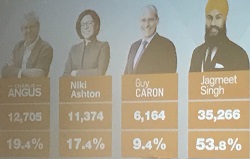 Toronto, ON – Jagmeet Singh is the new leader of the federal New Democratic Party with a resounding first-ballot victory by a margin of 53 per cent in the NDP leadership in Toronto Sunday night.
"Earlier last month the IAM endorsed Jagmeet Singh to be our new leader after a vigorous internal debate," said IAM Canadian General Vice President Stan Pickthall. "At that time we concluded that he was the right person for the job because he most closely represents the values and the direction of IAM. I'm pleased that the rest of the party agrees with us."
Singh, 38, defeated challengers Niki Ashton, Charlie Angus and Guy Caron. Singh, a criminal defence lawyer who speaks fluent French and Punjabi, has represented the riding of Bramalea-Gore-Malton in the Ontario legislature since 2011. He was named deputy leader of the Ontario NDP in 2015. Singh says he will not immediately seek a seat in the House of Commons until he has had time to increase his profile outside of the House.
  
Singh has been a frequent visitor to IAM rallies, meetings and demonstrations regarding precarious work, the Fight for a $15 an hour minimum wage, contract flipping and privatization of Canadian airports. "We look forward to working with Jagmeet to build power within the Party as we prepare for the next chapter," said Pickthall. "Our next battle is in 2019, with the Trudeau Liberals; there is much work to be done along the way."
4/10/17
---
IAM Joins Rally to Protest Boeing Court Battle with Bombardier
Montréal, QC – More than 150 IAM members joined other unionized workers in a rally and March through the streets of Montréal to the US consulate to protest Boeing Aircraft's court battle with Bombardier.
Boeing has filed trade tribunal complaints and taken court action against Bombardier over the sale of 75 C-Series 100 commercial airliners to Delta Airlines. Boeing accuses Bombardier of being heavily subsidized by the Canadian and Québec governments which allowed the Québec-based aircraft manufacturer to dump the planes on the market at bargain rates. "Boeing's claim make no sense," explained IAM Québec Coordinator David Chartrand. 'Boeing doesn't make an aircraft in this category and it didn't make a bid for the Delta contract so their claim is groundless."
"If Boeing wins this case, the tariffs imposed on the C-Series would amount to 160 per cent and double the cost of the aircraft," Chartrand told demonstrators. "The C-Series is the most technologically advanced aircraft in its class and this court action would not only impact Canadian jobs but American workers too. The C-Series is flight tested at Bombardier facilities in Kansas and components for the aircraft are also manufactured there. This is nothing short of an attack on the Canadian aerospace industry and we will defend the jobs of our members. We must convince the US government that this is wrong and that's why we're outside their consulate today."
13/9/17
---
Hurricane Harvey Disaster Relief Fund
The disaster that has struck the U.S. State of Texas is a disaster for all working people everywhere. If you wish to make a contribution to aid those who have lost so much then go to the link HERE.
It won't hurt to see  "Those in power" how union members hang together and aid their fellow man.
4/9/17
---
IAM Statement on Department of Labor-Supervised Rerun of Election

Responding to the U.S. Department of Labor, the IAM has agreed to a DOL-supervised rerun of the 2017 Grand Lodge elections for International Union officer positions, including International President, General Secretary-Treasurer and seven U.S. General Vice Presidents. The election excludes the Canadian General Vice President position.
The DOL struck down the IAM members' for Grand Lodge office show a minimal 10 percent level of support in the union's local lodges before becoming candidates for election. The members adopted this provision to assure that elections took place only when there was at least some possibility that more than one candidate for each position would prevail. The DOL also found that even though incumbent candidates received 749 or more local lodge endorsements, while challengers received no more than 7 endorsements, a new election is required.convention action requiring that candidates
"The IAM strongly disagrees with the DOL's decision to override the will of its membership, and reserves the right to take legal action in the future to vindicate its membership's actions," said IAM International President Bob Martinez. "However, instead of undertaking the expense and uncertainty of litigating these issues, and further delaying the final resolution of the election, we have agreed to re-run the election, and to leave the matter in the hands, once again, of our members. Agreeing to a prompt re-run election assures that this matter will be resolved as quickly as possible so that the union can get on with the critical business of implementing the program adopted by our members at last year's Convention. We remain committed to a free, fair and democratic election process. We also commit to our membership that we will take all necessary and appropriate steps to put an end to the DOL's unwarranted interference in an election process established by the membership at last year's convention."
The nominations in each Local Lodge will take place in meetings in January 2018, with further meetings in February for lodges that nominate more candidates than the positions call for. If 25 or more locals endorse more than one candidate for International President or General Secretary-Treasurer, or more than seven candidates for United States General Vice Presidents, an election for the contested positions will take place in April.
 Liberals Make Good on Election Promise with Bill C-4
Ottawa, ON – True to their word, the Trudeau Liberal Government has eliminated anti-union legislation with the passing of Bill C-4.
The old legislation, both created by the Harper Conservatives through private members bills from backbenchers, were a sore point with the IAM and other unions. Bill C-377 required labour organizations to make a series of public financial disclosures including all transactions of more than $5,000.00. Bill C-525 replaced the card-check system with a forced secret ballot vote for any decision to certify or decertify a union. Bill C-4 repealed both pieces of legislation.
"I wish to thank the IAM for its efforts in trying to make changes for the working people of Canada," said federal Labour Minister Patty Hajdu. "We made a commitment to improve our relationship with orgranized labour by reversing this legislation and the proof is in our actions. We're working on a decent work agenda to modernize Canada's Labour Code."
The Liberal government took another step in the right direction on Wednesday June 14, 2017 when it ratified the International Labour Organization – ILO – Convention 98.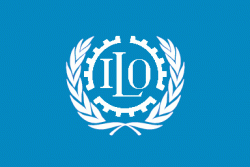 The convention reinforces the right to collective bargaining and protects all workers from anti-union discrimination, including being forced to give up union membership in order to get a job, or job termination for participating in union activities. "This is a very significant step because successive Canadian governments since 1949 have refused to sign this agreement," said IAM Chief of Staff Gord Falconer. "By ratifying Convention 98, Canada is committing not just to respect collective bargaining rights, but to promote and uphold them abroad and at home," explained Canadian Labour Congress President Hassan Yussuff. "By signing this convention, Canada is finally recognizing the crucial role that strong unions and collective bargaining rights play in reducing inequality and building stronger, fair and inclusive economies."
22/6/17
---

Get Your Favorite IAM Swag Online

You can now purchase your favorite IAM apparel online at MachinistsGear.com. With nearly 150 union-made products available, there is something to suit everyone's style and taste.
Apparel ranges from T-shirts, polos, dress shirts, jackets, coats, sweatpants, sweatshirts, hats and bags. Also available are miscellaneous items such as watches, rings, lapel pins, knives, badge holders and wallets.
MachinistsGear.com is equipped with the latest industry encryption for securing user data and credit card transactions. Visitors to the site have the option of creating an account for quick and easy transactions in the future.
Visit MachinistsGear.com today!
17/6/17
---
CNC Machine Operators join IAM

Port Coquitlam, BC – Failure by the employer to deliver on promises of past wage increases drove CNC operators into the arms of the IAM. CNC machine operators and shipping and receiving personnel at Advanced CNC Machinery Limited are the newest members of IAM Local Lodge 692.
"These people have been waiting a long time for promised wage increases and they never materialized," explained IAM District Lodge 250 Business Representative Al Cyr. "The final straw was when the owner showed up with a new car and bragged about his new boat to the people he promised wage increases to. His attitude toward his employees changed dramatically. It didn't take long to secure this organizing drive."
Advanced CNC Machinery provides precision CNC milling and turning of all types of alloy steel, stainless steel and aluminum alloys for medical, marine, aircraft, electronic and transportation industries.
19/4/17
---
BC Forklift Operators Join IAM

Delta, BC – Forklift operators at South Fraser Container Services, part of the Sankyo Group of Companies, have joined the IAM.
"Wage disparity among the workers and respect in the workplace were the key reasons for this group joining the IAM," explained IAM District Lodge 250 Business Representative Al Cyr. "This is a very solid group of workers, they stuck together during the ten day waiting period of application. They never wavered, they were determined to join."
The 15 new members of IAM Local Lodge 692 reload export goods such as lumber, steel, veneers, and roofing shingles into containers. South Fraser Container Services take products originating from Vancouver Island, mainland British Columbia, Alberta, Saskatchewan, Idaho, Washington, and Oregon, for shipment overseas.
19/4/17
---
---
Horgan attempts to clarify NDP policies in meeting with Machinists!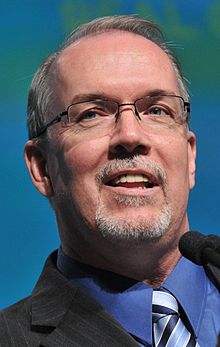 Vancouver, BC – Until John Horgan attended a recent meeting of the membership of IAM District Lodge 250, Machinist support for the NDP in the upcoming provincial election on May 9th was less than Luke warm.
As far as the rank and file were concerned, there were too many unknowns about exactly where the NDP stood on issues like pipeline construction, environmental regulations, jobs, hydro-electric dam projects, and more. "We put out an invitation to NDP leader John Horgan to come and talk to the membership," explained IAM District Lodge 250 Directing Business Representative Walter Gerlach. "We made it clear, if you want our support then you'll have to explain your policies and that means face to face. To his credit, John came to our meeting and I think he cleared the air, dispelling the myths that were worrying our membership."
Pipelines have become a major battleground across the province and the NDP policy has concerned many Machinist members in BC. Horgan for example has taken a strong stance against the controversial Pacific Northwest LNG project proposed for northwestern B.C., and has told reporters that if certain conditions were attached to it, the NDP might change its mind. He went further at his meeting with Machinists stating pipelines are good as long as you place a refinery at the end of them to create more jobs in BC. He wants to stop the practice of raw logs exports without a financial return for British Columbia.
Regarding the Site C hydro-electric dam project, Horgan was very critical of the ruling Liberal government under Premier Christy Clark. He told IAM members that no dam has even been built in British Columbia without a regulatory process which includes a commissioned report on the project. The Site C was allowed without a commission, without a trade labour agreement and with no agreement on apprentices. Horgan said he would enforce a labour trade agreement on the project if possible.
"Did he win the members over, that's hard to gauge, I would like to think so but time will tell," said Gerlach. "He wants our support, now the members have to decide."
15/3/17
---
IAM plays Major role in Biggest CLC Lobby!
Ottawa, ONT – Labour activists from across the country swarmed MP offices on Parliament Hill Tuesday February 7th as part of the largest Canadian Labour Congress lobby ever and Machinists played a major role.
"There were 341 labour activists taking part in this lobby effort and 64 of them were Machinists, the largest contingent from any CLC affiliate," said IAM Canadian General Vice President Stan Pickthall. "It's rewarding to see so many of our members getting politically involved."
The lobby set its sights on three issues, Bill C-27, changes to Defined Benefit Plans in the federal sector, Pharmacare and Pay Equity. [MORE]
9/2/17
---
"Right to work" Legislation in the USA, The Biggest Threat to Workers in North America
Toronto, ON – With a new administration in place in the White House that is anti-union, the US Labour movement may be facing its biggest threat ever with the introduction earlier this week of a national "right to work" bill in Congress.
IAM Canadian workers may have heard of the "right to work" laws that are already in place in 28 states South of our border. New Hampshire may soon be added to that list.
That law deprives unions of essential funds to protect workers and operate on a daily basis by allowing workers not to pay dues to a union, while still being represented by it. [MORE]
9/2/17
---
---
Click onto the link that appears when you center the cursor over the title and a link will appear that will take you to the complete course schedule for 2017
8/11/16
---
Celebrating 35 Years of Labor Education at Placid Harbor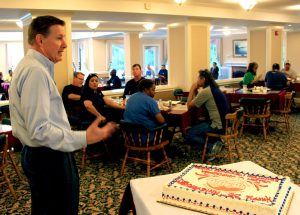 W. Winpisinger's vision of a full-time residential facility to educate and train members and staff in organizing, bargaining and leadership. That commitment of educating members remains today and is an integral part of the IAM's cultural DNA.
The first class, a two-week comprehensive organizing program held in a windowless classroom in the basement of the dining hall, was attended by 20 IAM staff from across the U.S. and Canada in the last week of October 1981.
Since the inaugural class, the Winpisinger Center has expanded to operating 47 weeks a year utilizing 114 guest rooms, five classrooms, two computer labs, six conference rooms, an auditorium and a theater.
Although physically, the school doesn't quite look the same as it did over three decades ago, the mission remains the same; developing union leaders of the future. The range of programs has grown more than anyone could have predicted, in both number and content.
During the first year of operation the school held three training programs and hosted 51 members. In 2015 the Center administered 139 programs, with more than 2,800 members participating. In total since opening in 1981, more than 90,000 members have completed programs at the Winpisinger Center.
"The Winpisinger Center is an integral part of the IAM and we all benefit from the vision our past leaders had for educating and training our members," said IAM International President Bob Martinez. "We are a better, stronger and more effective labor organization because of it. More importantly, our members are better served for having access to such a fine educational facility. Our focus is to continue to grow our membership through education."
Placid Harbor isn't the only part of the IAM that's changed in the last 35 years, so has the membership. Classes are now offered in three languages in order to give Spanish and French speaking members an opportunity to learn in their native language.
"We are very thankful to our leaders—past and present, and to our members who are dedicated to the continuing education of this great union," said William W. Winpisinger Education and Technology Center Director Chris Wagoner. "There is no other labor organization in North America that provides the level and scope of education that is offered at the Winpisinger Center."
3/11/16
---
2017 Scholarship Competition Announced
The scholarship competition program for 2017 has been announced and the letter has already been received by the Lodge.
The information package and the applications, there are different applications for each category or scholarship to be applied for so do ensure that you do download the one of your choice.
The information and applications are available at:
Good Luck to all those entering.
12/10/16
---
Canadian Headquarters Are Moving
The Canadian natinal office is moving to a new address. Please make note of the new contact information in the image below.
12/10/16
---
Juno We Built That?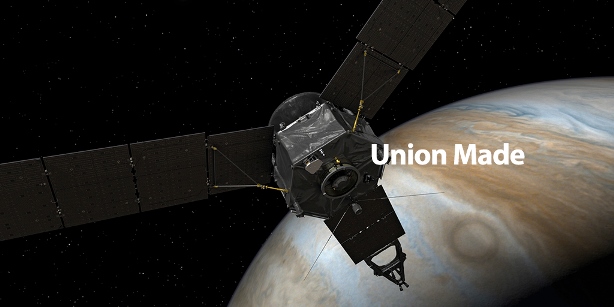 IAM members weren't just celebrating the United States' independence this July Fourth. The success of the Juno spacecraft reaching Jupiter's orbit, a mission the Machinists Union was an integral part of, gave us another reason to rejoice.
IAM members built and launched Juno, which reached its destination after a five-year, 1.8 billion-mile journey to our solar system's largest planet. Juno was built by Local 44 members at Lockheed Martin in Decatur, AL and launched, in 2011, by IAM Local 610 members at United Launch Alliance in Cape Canaveral, FL.
The spacecraft will soon become the first to see below Jupiter's dense cover of clouds. Juno will stay in Jupiter's orbit for the next 20 months, collecting data on the Gas Giant and sending it back to NASA to be studied.
Learn more about Juno's historic mission from NASA
9/7/16
---
Apply for the Only Credit Card Designed Especially for Machinists Union Members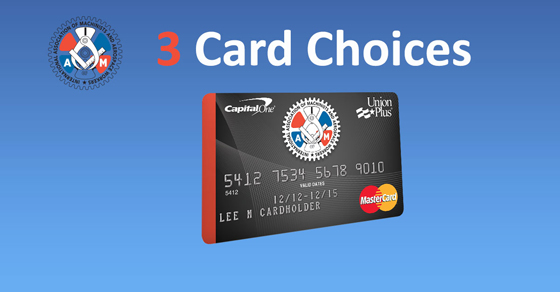 Union Privilege has a Union Plus Machinists Credit Card designed to meet the needs of IAM members and their families.
The card is available in three options, all with competitive rates, U.S.-based customer service and more. Eligible cardholders have special access to $2.1 million in hardship grants for dealing with an illness or disability, hospital expenses, a strike or job loss.
The AFL-CIO created Union Privilege in 1986 to provide union members and their family's valuable, exclusive consumer benefits, discounts and services, brought about through the collective buying power of over 13 million union members. With Union Plus, union membership "pays" at work and at home.
Other Union Plus programs include mortgage assistance, health savings programs, scholarships and discounts for AT&T wireless, car rentals, auto insurance and life insurance.
For more on Union Plus benefits and programs, click here.
2/7/15
---
Video Unveils True Labor Day Founder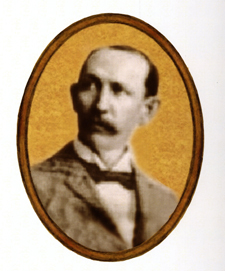 Former Secretary of IAM Local 344 in Patterson, NJ, Matthew Maguire, was thought to have been the founder of Labor Day.
Ever wondered who founded Labor Day? Well, word has always had it that the holiday, dedicated to honoring working men and women, was started by a Machinists member. A new video produced by the Machinists News Network investigates.
Click here to watch "The Real Labor Day Founder."
"There's this big question about Labor Day. Who founded Labor Day?" said Carl Fillichio, a U.S. Labor Dept. Spokesperson. "There's a debate over two men, with the same last name – Maguire. The first is Peter McGuire. He was a founder of the United Brotherhood of Carpenters and later was a founder of the AFL, with his very good friend Samuel Gompers."
"But lately," continues Fillichio, "there's been a discussion that the real father of Labor Day might actually be a Machinist named Matthew Maguire."
Matthew Maguire was a machinist by trade before the IAM was formed, but later served as Secretary of IAM Local 344 in Patterson, NJ. He also served as Secretary of the Central Labor Union in New York.
Click here to watch "The Real Labor Day Founder" and find out which Maguire is the true founder of Labor Day.
31/8/14
---