The next meeting of Lodge 456 will be
 the Christmas Meeting and Social
at the Trafalgar/ProPats Legion Branch
411 Gorge Road East
Victoria, B.C. V8T 4E8,
Tuesday December 10 2019 at 5:30 p.m.
We hope to see you there.
---
December Meeting and Christmas Social
Its that time of year again.
Once a year we have a social meet and greet for the members. A chance for us to gather, exchange a few ideas and stories and put the usual travails of the labour movement aside if only for a couple of hours.
Mark the date and come to the Trafalgar/ProPats Legion Hall the evenng of December 10 and tell a few tales and meet your fellow Local 456 members.
19/11/19
---
As income Inequality Soars, Languishing Labor Unions Make a Return
(NEW YORK) — After decades of declining membership and seemingly sidelined authority, a series of national strikes has put unions back in the spotlight. And as economic inequality has become a hot-button issue for workers and candidates on the 2020 campaign trail, some experts have said a surge of emboldened organized labor movements could be on the horizon.
Once considered by many to be essential, union membership is a fraction of what it once was: Approximately 10% of U.S. workers were part of a union in 2018, according to the most recent data from the U.S. Bureau of Labor Statistics. In 1983, the first year the department collected data, the number was more than twice that — over 20%.
"We've had massive union decline — back in the '40s, over 30% of workers were unionized in this country," Sylvia Allegretto, a labor economist and the co-chair of the University of California, Berkeley's Center on Wage and Employment Dynamics, told ABC News.
While union members account for only a fraction of the workforce, recent actions have forced them back in the public eye.
Last month, the United Auto Workers completed the longest auto industry strike in 50 years at General Motors, and ended it with $11,000 bonuses, higher wages and clearer paths to full-time status for temporary workers.
Similarly, last month, the Chicago Teachers' Union organized a 15-day strike that ended with pay raises and a pledge to reduce class sizes.
Presidential candidates, including Sen. Bernie Sanders, Sen. Elizabeth Warren and former Vice President Joe Biden, joined strikers on the picket lines, and a slew of politicians expressed support on social media.
In the wake of these two highly publicized strikes, the Association of Flight Attendants announced this month that it's organizing an effort to unionize Delta flight attendants for the first time.
"Union organizers I've talked to have said that there is a dramatic pick-up in the number of people interested in organizing and trying to gain collective bargaining," Larry Mishel, a labor expert and distinguished fellow at the Economic Policy Institute, told ABC News.
"Working people have taken it on the chin for many decades. They've been not able to get the help of government to be on their sides, the employers are suppressing their wages," he added. "And now they are being shown that some collective action can actually work."
"If people see that they can solve their problems through collective bargaining — and even striking if they have to — then they will do that," Mishel said. "And I think that's what we're seeing."
'The economy is booming … but my paycheck has gone nowhere'
The ratio between the highest- and lowest-paid Walmart employee is more than 1,000-to-1. Many other U.S. corporations have pay ratios exceeding 500 to 1. Teachers and other full-time workers often cannot afford housing in major U.S. cities despite strong economic indicators.
Unions may be seeing a revival due to "the rise of economic inequality in the country," according to Joseph Kane, a senior research associate and associate fellow at the Brookings Institute's Metropolitan Policy Program.
The top 1% of the U.S. holds more wealth than the entire middle class, according to the Brookings Institute, a Washington, D.C.-based think tank.
It wasn't always this way: Prior to 2010, the middle class owned more wealth than the top 1%. Since the mid-90's, however, the share of wealth held by the top 1% has steadily increased, while the share held by the middle class has steadily declined, according to Brookings.
"Not all people are sharing in the economic gains that we are seeing," Kane said. "That's led to some very real frustrations and curiosity, I think, of, 'Well, what can unions do about this?'"
While many unions probably would agree that strikes are a "last-resort" option, Kane said these high-profile strikes are "magnifying some of these broader interests in what unions and organized labor can do to help people."
Allegretto added that some of the recent teacher strikes happened at a "time when economic growth was happening for quite a while" in the decade following the 2008 recession, and "most of the states had already fulfilled their budget shortfall, but what a lot of them didn't do was replace the money that they took away from the public education."
"One part of the story is why the teachers said enough is enough," she added. "In Oklahoma, those teachers did not have a raise in over two decades. I think that's kind of what we're seeing now.
"I think workers are really saying, 'What are we supposed to do here? The economy is booming, the economic pie has grown considerably, but my paycheck has gone nowhere.'"
While union membership has declined across the board, it has dropped the slowest among black workers, who remained more likely to be union members than any other race in 2018, according to BLS data.
"We know that unions tend to raise wages for those who have the least wages, so they tend to disproportionately help minorities," Mishel said of the statistics. "So Hispanics and blacks are very favorable in union organizing drives, and we see women growing more than among men in various sectors."
Allegretto added that because unions bargain collectively, everybody "under the collective bargaining agreement is getting the same deal, so it certainly helps workers who might face discrimination in the work place get a better deal."
So why the massive decline in union membership?
Employer resistance, especially in the private sector, and changing labor laws have a "big role to play" in the decline of union membership, Kane said.
Mishel added, "There's an easy tale to tell that's actually wrong: That somehow the union decline is all due to automation and globalization."
"But," he added, "union density has fallen even in construction, communication, supermarkets, just across the board."
He added that "employer opposition has been severe" and organized labor "imploded" in the late '70s and '80s.
"It's primarily declining in the private sector, and, really, the main one of the leading reasons is that employers' actions in the 1970s and some changes in the law really made it extraordinarily difficult for workers to become organized," Mishel said. "If you get fired for trying to get a union where you work, it's illegal to get fired for that, but what happens? Well, it takes five or seven years, and maybe you will get your job back."
Allegretto said that it has become nearly "impossible to form new unions in the United States."
The erosion of unions leads to not only lower wages and benefits for workers but "hurts our democracy," according to Mishel. "It doesn't allow our workers to be represented in the political process the way they used to be."
Despite the difficulties in organizing, Allegretto said that especially at a time like now, many workers are looking to stronger labor unions redress glaring economic imbalances.
"We do know that the stagnating wages, that inequality has grown so much," Allegretto said. "A very large share of that inequality has to do with the decline of unions and the decline of union power."
Copyright © 2019, ABC Audio. All rights reserve
196/11/19
---
Winpisinger Center 2020 Class Schedules Now

Available
"Our programs cover a diverse range of topics to ensure that IAM members, officers, and staff have access to training that will help them on the job," says director Chris Wagoner. "Ultimately, the education received at the Center is meant to be shared with others. We look forward to welcoming first-time and returning participants alike and preparing them to return to their locals or districts ready to lead, assist, and serve the membership."
Classes fill up quickly and participants are encouraged to register as soon as possible.
Interested parties should bring the schedule to the attention of their local lodge president. Call letters and forms for departmental and staff programs will be distributed via post.
Queries about leadership programs can be directed to Nancy Long at (301) 373-8820 or nlong@iamaw.org. Those interested in staff or departmental programs should consult their local lodge president or business representative.
6/10/19
---
Ramping it up at Envoy Air – 40 new members join IAM to gain respect!
Vancouver, BC – Ramp workers at Envoy Air in Vancouver joined the IAM on October 1 after more than 70% of workers signed membership cards. The Canada Industrial Labour Board recognised the vote and certified the IAM as their bargaining agent.
Ron Fontaine, Canadian Territorial Organising Leader said "we tried for some time to meet with the workers, but just couldn't get meetings. We finally met and informed them about the IAM and the certification process. They were highly motivated and it showed."
The main issues of concern were shift scheduling, a lack of policies and procedures, and wages. Those procedures which were in place weren't being followed by members of the management team. All in all, there was a lack of respect for the work being done by the workers.
Todd Haverstock, General Chairperson for IAM District Transportation 140 was, "amazed at the speed at which they went out and signed the cards. It was very clear they wanted and needed IAM representation," he said.
Envoy Air Inc. (formerly American Eagle Airlines) is an air carrier headquartered in Irving, Texas. It is a wholly owned subsidiary of American Airlines Group that, along with several carriers outside the group, feeds the American Airlines route network under the American Eagle brand. With over 1000 flights a day, serving 150 cities across the United States, Canada, Mexico and the Caribbean, Envoy is considered to be one of the world's largest regional airline systems.
With files from Wikipedia
10/10/19
---
"It's a great day to organise!" – Sam Jabbar appointed Special Representative to Canadian Territory
Canadian General Vice-President Stan Pickthall announced the appointment of Sam Jabbar as Special Representative for the Canadian Territory, effective 1 November, 2019.
Brother Jabbar joined the IAM in November 2000. He was elected as Recording Secretary for Local 2323 for two terms (6 years) before he took the leap into organising for his local and Air Transportation District 140 for a total of thirteen years. He has been a great asset at Toronto Pearson Airport as well as airports across the country.
Said Pickthall, "I know Sam will be an invaluable addition to the Canadian Territory, where we will use his expertise in campaigns in all sectors. Brother Sam Jabbar has been among our top organizers in the Canadian Territory for the past 6-8 years. He is outgoing, friendly and creative in his approach to potential members."
Working primarily out of Pearson Airport in Toronto, Sam brings his organizing experience and expertise to campaigns across Canada. He has worked on campaigns in Toronto, Montreal, and Vancouver, and is often called upon to make organizing presentations at IAM Canada staff and District events.
"With contract-flipping being a significant threat to workers at Pearson International Airport in Toronto, brother Jabbar in 2018 was able to leverage his relationships within the airport community. As a result, the IAM has benefited from both traditional organizing campaigns, as well as a number of "voluntary recognition" agreements. Those new groups and recognition agreements have led to hundreds of new card-carrying members who benefit from the advantage of a strong IAM Union contract," Pickthall concluded.
Sam speaks six languages, all of which help him greatly when speaking to potential members. When informed about his appointment, Sam replied," It's a great day to organise!"
8/10/19
---
40 new IAM members at A.S.A.P Secured Inc. at Montreal airport
25 September, 2019
For Immediate Release
Montreal, QC – "It often takes a second effort to succeed at anything, and in this case, it proved very true," said GLR Michel Richer of the 40 new members at A.S.A.P Secured Inc working at Montreal's Pierre Elliott Trudeau International Airport. The new members joined the IAM in late August.
The new group includes 40 workers assigned to air cargo control and officers working at checkpoints at the airport. District 140 Organiser Nick Sifakis, who helped organise the workers added that, "We had contacted the workers in the past, but they were not ready at that time. This time they were, and they supported the IAM in a big way. The entire campaign only lasted 72 hours."
The main issues for the 40 new members were better health and safety protections, respect on the job, and an improved work schedule. They will join many other airport workers in IAM Local 2309.
The IAM is the largest union in Canada's air transport sector.
6/10/19
---
British Columbia District 250 Raises Nearly 60k for Guide Dogs of America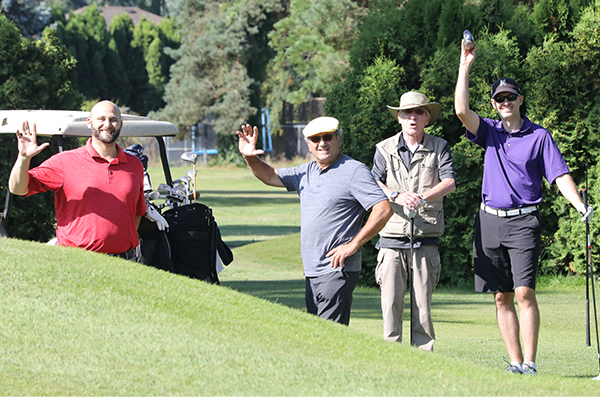 Over 150 participants flocked to the Newlands Golf and Country club in Langley, B.C. participated in the 2019 IAM District 250 Guide Dogs of America (GDA) fundraiser. The 4th annual event raised approximately $58,000 and was held on 20 July, 2019
DL 250 Organiser Al Cyr, assisted by Janet Trudell, pulled off yet another great day for the IAM's very own charitable organisation. Canadian General Vice-President Stan Pickthall and GVP Mark Blondin, Vice-President for Aerospace were pleased to attend and support this great event.
The event's keynote speech was made by GDA President Russ Gittlen who attended and participated in the fundraiser. Gittlen, who made remarks at the banquet and awards presentation, said, "A Guide Dog means a world of difference to the recipients who find themselves able to move around more freely, to socialize with others, and to have a companion they can work with in their daily lives. I thank you all for giving the gift of sight to sight-impaired people."
Guide Dogs of America empowers people who are blind and visually impaired to live with increased independence, confidence and mobility by providing expertly matched guide dog partners. GDA was founded over 70 years ago by retired Machinist member Joseph Jones, Sr. with the help of the IAM.
1/8/19
---
BC Vehicle Processing Center workers join IAM and ratify new deal!
Nanaimo, BC – Workers at the British Columbia Vehicle Processing Centre have joined the IAM and ratified their first collective agreement. . MORE 
20/3/19
---
Tragic Loss of a Brave Member
Bro Andrew Debogorski was a member of Lodge 99 in D.L. 14 in Alberta. Although only 32 years of age, he was suffering from an advancing case of ALS, which is often referred to as Lou Gehrigs disease. When his family was threatened by a house fire, Andrew gave his life to get them to safety.
Canadian Grand Lodge has asked the local lodges to donate $500.00 to a fund that has been established to aid his widow and his two young children.
LL456 asked Grand Lodge for a dispensation to make our donation that would be beyond the $100.00 limit our by-laws provide for. The dispensation has been approved and the donation has been forwarded.
15/1/19
---
Editor's note: This article may be a long one but if the tenets expressed in it come to fruition, it may prove to be a seminal moment in a renewed labour movement.
Why Young People Are Joining Unions Again
Young people are at a tipping point. They are frustrated by a system whose cracks were etched into place by preceding generations, but have only fully metastasized for theirs. They experience suffocating levels of student debt alongside declining wages and income equality while watching companies monopolize entire industries, and sometimes even nationwide elections. Representation—actual representation—feels more like theory than reality.
People are, finally, beginning to take notice of young people's activism to fix that system. However, many are mistaking the new wave of media coverage dedicated to young people's political activism for young people's newfound political activism. It's not that young people were ever politically dormant; it's just that their activism has existed in places where older generations aren't used to looking: on college campuses, like the Know Your IX movement and tuition equity campaigns for undocumented students, and inside activist movements like #BlackLivesMatter and #ByeAnita and #Occupy.
Young people's activism has existed in places where older generations aren't used to looking and now, increasingly, unions.
For the first time in decades, union membership is on the rise among young people. Historically, younger people have not been unionized, and their rates of union membership trail older adults by wide margins. But, just like the gun laws that are already being amended, that too is beginning to change.
According to the Economic Policy Institute (EPI), in 2017, there were 262,000 new union members in the United States. Seventy-five percent of this increase came from young people (which EPI considers those aged 34 and under, but for the purposes of this article, broadly refers to the older subset of Generation Z and most Millennials, ages 16 to 35). Young people also hold the most favorable attitudes towards labor of any generation, and their support for political parties skews heavily towards those that support pro-worker policies (like standing against "right-to-work" laws), including the Democrats and, increasingly, the Democratic Socialists of America (DSA).
But for some reason, unlike previous generations, young people's workplace organizing isn't seen as an integral part of their organizing, writ large. While plenty of people are documenting the rise of young people's union membership and plenty more describing young people's leadership in activist spaces, what's missing is the idea that these two phenomena are actually one: Young people are turning to outside outlets that allow them to exercise their politics in the wake of a political system that, by and large, does not.
In a piece for Jacobin Magazine, Micah Uetricht sketches out the ebbing relationship between democracy inside and outside the workplace, and, relatedly, the relationship between economic and political democracy. To Uetricht—a sociology graduate student who focuses on labor, member of the DSA, and associate editor at Jacobin—activism is activism, whether it takes place at the workplace or outside of it. "It's a relatively recent development that we think of what happens at work as some kind of separate sphere of our lives in general," he says. He adds: "Young people understand that and don't like living in a dictatorship in the place where they spend 8 or 10 hours of their day."
Uetricht experienced something similar at his first job out of college, when he worked as a cashier at an airport making minimum wage. He says he and his co-workers were treated as less than human on a daily basis, and they eventually decided to unionize, granting him a newfound sense of agency: "I had never felt as powerless as I did when I was a cashier making minimum wage. Conversely, I had never felt as powerful as I did when I joined with my co-workers, confronted my boss, and won."
That fact—that unionization campaigns often center around not simply better wages or benefits, but a sense that your voice will be heard—often goes misunderstood by those who are not connected to the labor movement. But for Uetricht, who went on to become a union organizer, the idea of worker voice, even if it's to voice complaints about stagnant pay or subpar health benefits, is not simply one benefit of unions; it is the benefit. "The thing that you learn immediately as an organizer," he tells me, "is that even in low-wage workplaces, the number one issue people have with their workplaces is not their low wages but a lack of respect."
A lack of respect is also primarily driving young people's frustration with the political system. When Kasky, the 17-year-old Parkland survivor, spoke at the March for Our Lives, he said "our voices are powerful, and our votes matter." He said that in contrast to the status quo, in which young people's voices are not seen as powerful, nor their votes. And, looking at recent history, it's not hard to understand why that might be Kasky's understanding of the status quo. Young people's votes were spurned by an electoral college that favors rural, sparse areas, disproportionately discounting the large numbers of young people who lived in cities in 2016. Their ideas of stronger restrictions on guns, reigning in big banks, and support for the rights of LGBTQ people, immigrants, people of color, and people of varying religious views have been continually overpowered by older generations and special interests.
Seen through that lens, it's no wonder young people have found working inside the U.S. political system ineffective, and, quite frankly, not worth their time. Instead, young people have redirected their activism toward different kinds of outlets, where their efforts may actually bring about tangible results. Outlets like unions.
What does this mean for the labor movement? A workplace is, at the most fundamental level, a microcosm of the political system. There are those who hold power, the bosses, and those who don't, the workers. Over time, the balance of power ebbs and flows; when unions are strong, the balance shifts more heavily to the workers, and when unions are weak, the balance favors the bosses. When unions are powerful, workers have something akin to a voice in the direction of their workplace. And when unions are at their most powerful, workers have something akin to a voice in the direction of their country, a counterbalance to special interest groups like ALEC or the U.S. Chamber of Commerce.
Julia Ackerly is working to build unions up to that level. Now 27, she's worked on Democratic campaigns for most of her adult life: She worked as a field organizer and regional field director for the Bernie Sanders campaign in the 2016 primary elections, and then for Larry Krasner's bid to be Philadelphia's District Attorney (DA), a race that drew national attention for how Krasner sought to use the DA position to enact a progressive vision for the criminal justice system. Ackerly has always worked on campaigns that worked closely with organized labor. But she had never been in a union herself.
That changed when the Campaign Workers' Guild (CWG) formed. The idea behind the CWG is pretty simple: It hopes to unionize campaign staffers, who experience harsh working conditions where poor pay and benefits and long hours run rampant, justified by managers as sacrifices for an important cause. CWG is currently organizing campaigns one-by-one: Its first successful organizing campaign was that of Randy Bryce, the candidate hoping to win House Speaker Paul Ryan's Congressional seat, and it's organized 10 more campaigns since, for a total of 11 as of March 2018. But it ultimately hopes to organize entire parties' campaign staffs at once in the future.
"Everyone needs an outlet for activism."
Ackerly, who helps organize campaign staffs and is now a dues-paying member of CWG herself, says that having a collective ability to be heard and respected in the workplace is a "very motivating factor towards unionization campaigns." She singles out creating protocol and reporting structures for sexual harassment and discrimination as one of the biggest motivations staff members have for organizing. Which, tellingly, is also the one of the biggest activist movements dominating living room and water cooler conversations across the country as the #MeToo movement continues.
Young people dominate the junior staffs on campaigns and have also made up a significant portion of the driving force behind recently organized campaign staffs, according to Ackerly. Jake Johnston, the Vice President of Organizing for the Non-Profit Professional Employees Union (NPEU) (which includes some members of the TalkPoverty staff), has similarly seen young people take the lead at the organizations that have recently organized under NPEU, and at NPEU itself.
For Johnston, collective action has implicit ties to activism, writ large. "The reality is that our political system really has cut out a significant part of this country. I think there's clearly a rejection of the status quo, and yet there are so few avenues to try and change that," he says. "Whether it's joining the DSA, joining a union, joining an advocacy campaign, or joining an electoral campaign, people are trying to change that. Everyone needs an outlet for activism."
That's true for young people in particular. For far too long, they've been on the receiving end of an economic and political system that does not work for them, while being denied the opportunity to change that system.
Whether it's students like Cameron Kasky shouting about the NRA into a microphone that reverberates from the Capitol to the White House, young people like Julia Ackerly organizing an industry that has never been unionized before, or activists like Micah Uetricht organizing his own workplace, young people are refusing to take part in a political system that has consistently and methodically drowned out their voice. Instead, they've taken their voices elsewhere, to outlets like unions and activist movements where—finally—their voices are being heard.
26/4/18
---
Unifor Opts Out of the CLC
Unifor, a union that represents automotive and transportation workers has left the C.L.C. this is an unfortunate development as the labour force is always stronger the more it sticks together. It also opens the labour movement up to unions trying to feed off each other by raiding for memberships. 
Some unions in Ontario have already reported attempts by Unifor to raid their memberships. This happens both ways and sooner or later Unifor may find out what it is like to be raided.
13/2/18
---
Wonderful Opportunities for the Members
The lodge has positions to fill on the Executive and for those of you who wish to take a more active role in the union lodge of which you are a member, there here are the available jobs to be filled.
Vice-President:
With the advancement of Sister Heather to the presidency the lodge must fill in behind her with a new Vice-President. The position of the Vice-President is to act on behalf of the President for the Lodge upon the Presidents absence or incapacity. The Vice-President will also act as adviser and assistant to the President in formulating policy and decisions affecting the Lodge and the Union as a whole.
Trustee

:
The Trustees main function is to oversee the audits of the Lodges finances and make the report to Grand Lodge on the outcome of the audit. The audits are carried out semi-annually. We have to elect a third trustee to complete the committee.
DYTLC Delegates

:
The lodge will eventually be electing its delegates to the Dockyard Trades and Labour Council and the membership from the Esquimalt Dockyard should be mindful that these positions will need to be filled in the future.
13/2/18
---
 

Airbus-Bombardier and guaranteed jobs until 2041
Montréal, QC – "The finest aircraft to be have been developed in the past 30 years is now affiliated with a major global aircraft manufacturer," said IAM Québec Coordinator David Chartrand. He was reacting to news late yesterday that Bombardier had sold a majority stake in its C-Series passenger jet program to European aerospace giant Airbus for no cost.
"A major player has now entered Québec's aerospace cluster, and we intend to do our part to make sure that it benefits the whole of Québec's workforce and economy," said Chartrand. The move comes after heavy duties were imposed by the U.S. Commerce Department against Bombardier, charging the Canadian aerospace giant was selling its C Series planes in the U.S. below cost while receiving government subsidies. The C-Series headquarters, Research & Development and production will remain in Montréal but a second assembly line for the 100-150 seat aircraft will be set up at Airbus's facility in Mobile, Alabama. This move may circumvent the duties imposed by the U.S. Commerce Department.
"It's clear that our members were feeling the pressure with the uncertainty hanging over the program," said IAM Canadian General Vice President Stan Pickthall. "We now have a strategic alliance with a major global manufacturer that guarantees the jobs of our members in Québec until 2041."
"Bombardier has tried over the past few years to achieve a strategic partnership," explained Chartrand. "They were unsuccessful in the past because the aircraft didn't have certification then, now it's in production and has won praise from customers, so the partnership was acceptable. We will benefit greatly from access to Airbus's supply network where we can purchase materials for less than we can now, and it gives Airbus the best product in the world in its class to offer to its airline customers. The partnership with Airbus makes us strong enough to weather the protectionist storms of the American market, keep a number of jobs in Québec and maintain the cohesion of our aerospace cluster."
The IAM represents more than six thousand employees at Bombardier.
Editor's note. Perhaps Boeing will not have to keep up their ad campaign about how much they love Canada
18/10/17
---
IAM Joins Rally to Protest Boeing Court Battle with Bombardier
Montréal, QC – More than 150 IAM members joined other unionized workers in a rally and March through the streets of Montréal to the US consulate to protest Boeing Aircraft's court battle with Bombardier.
Boeing has filed trade tribunal complaints and taken court action against Bombardier over the sale of 75 C-Series 100 commercial airliners to Delta Airlines. Boeing accuses Bombardier of being heavily subsidized by the Canadian and Québec governments which allowed the Québec-based aircraft manufacturer to dump the planes on the market at bargain rates. "Boeing's claim make no sense," explained IAM Québec Coordinator David Chartrand. 'Boeing doesn't make an aircraft in this category and it didn't make a bid for the Delta contract so their claim is groundless."
"If Boeing wins this case, the tariffs imposed on the C-Series would amount to 160 per cent and double the cost of the aircraft," Chartrand told demonstrators. "The C-Series is the most technologically advanced aircraft in its class and this court action would not only impact Canadian jobs but American workers too. The C-Series is flight tested at Bombardier facilities in Kansas and components for the aircraft are also manufactured there. This is nothing short of an attack on the Canadian aerospace industry and we will defend the jobs of our members. We must convince the US government that this is wrong and that's why we're outside their consulate today."
13/9/17
---

Get Your Favorite IAM Swag Online

You can now purchase your favorite IAM apparel online at MachinistsGear.com. With nearly 150 union-made products available, there is something to suit everyone's style and taste.
Apparel ranges from T-shirts, polos, dress shirts, jackets, coats, sweatpants, sweatshirts, hats and bags. Also available are miscellaneous items such as watches, rings, lapel pins, knives, badge holders and wallets.
MachinistsGear.com is equipped with the latest industry encryption for securing user data and credit card transactions. Visitors to the site have the option of creating an account for quick and easy transactions in the future.
Visit MachinistsGear.com today!
17/6/17
---