---
The Next Meeting of the Lodge Will be
In Duncan at the
Island Savings  Centre
At 7:30 p.m., May 8, 2018
---
Its That Time of Year Again.
Once a year the Lodge holds a meeting out of the environs of Greater Victoria in order that our out of town members can participate. To that end we hold a meeting in Duncan at the Island Saving Centre on James Street, one block west of the Island Hwy.
The meeting will start at 7:30 to allow time for the Victoria Executive to travel up to Duncan.
We in Victoria will welcome the opportunity to confer with our Brothers and Sisters from North of the 'Hat.
10/4/18
---
The lodge will sponsor one member to compete in the golf tournament and will underwrite their lost wages and hotel expenses for tow nights.
Everyone attending the May meeting will receive one free raffle ticket for this draw.
14/4/18
---
BCFed to Hold Conference in Courtenay
A picture is worth a 1000 words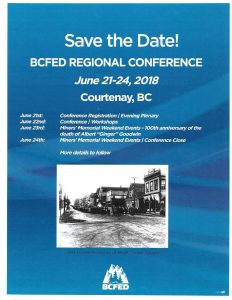 12/4/18
---
Machinists Exp

and Membership in B.C.  Auto Sector

Victoria, B.C. – IAM District Lodge 250 has expanded its automotive membership with an organizing victory at BMW Victoria, part of the Gain Auto Group.
"This employer ran a very significant anti-union campaign and these workers refused to swallow it," explained IAM District Lodge 250 Directing Business Representative Walter Gerlach. "I admire these people for standing up for change in their workplace rather than leave and go somewhere else. This organizing campaign was also a great opportunity to mentor IAM District Lodge 250 Business Representative John Humphrey in the art of automotive organizing."
The 20 new members of IAM Local Lodge 456 consist of mechanics, parts personnel and service writers. IAM District Lodge 250 represents workers at over thirty automotive dealerships in British Columbia including more than a dozen on Vancouver Island. Across Canada, the IAM represents more than 1600 workers in auto dealerships in British Columbia, Alberta, Ontario, New Brunswick and Newfoundland.
30/3/18
---
I.A.M.Photography Contest
The annual I.A.M. Photography Contest Has Been Announced. Those wishing to enter are to submit their entries to:      IAM  Photo Contest
                                 IAM Communications Department
                                9000 Machinists Place
                               Upper Marlboro MD, 20772
The winning photographs will be printed in the 2019 IAM Calendar.
Unifor Opts Out of the CLC
Unifor, a union that represents automotive and transportation workers has left the C.L.C. this is an unfortunate development as the labour force is always stronger the more it sticks together. It also opens the labour movement up to unions trying to feed off each other by raiding for memberships. 
Some unions in Ontario have already reported attempts by Unifor to raid their memberships. This happens both ways and sooner or later Unifor may find out what it is like to be raided.
13/2/18
---
Wonderful Opportunities for the Members
The lodge has positions to fill on the Executive and for those of you who wish to take a more active role in the union lodge of which you are a member, there here are the available jobs to be filled.
Vice-President:
With the advancement of Sister Heather to the presidency the lodge must fill in behind her with a new Vice-President. The position of the Vice-President is to act on behalf of the President for the Lodge upon the Presidents absence or incapacity. The Vice-President will also act as adviser and assistant to the President in formulating policy and decisions affecting the Lodge and the Union as a whole.
Trustee

:
The Trustees main function is to oversee the audits of the Lodges finances and make the report to Grand Lodge on the outcome of the audit. The audits are carried out semi-annually. We have to elect a third trustee to complete the committee.
DYTLC Delegates

:
The lodge will eventually be electing its delegates to the Dockyard Trades and Labour Council and the membership from the Esquimalt Dockyard should be mindful that these positions will need to be filled in the future.
13/2/18
---
Shop Stewards' Training
In March a training session for new shop stewards will be held in the Duncan area because it is central to the Lodge's  area of jurisdiction.
If you are a new shop st ewardand wish to take this training let the Lodge office know that you will be available.
13/2/18
---

President Elect Sworn In
At the January meeting the president elect, Heather Hunter was sworn in as the first female president in its history..
The Lodge gives her its best wishes for the task ahead and sends its thanks to Stan Dzbik for his years of faithful and meritorious service.
---
Re-Nominations for Grand Lodge Positions
In the wake of political/legal maneuverings in the U.S., the positions of International president and secretary treasurer, although already elected in accordance with the I.A.M. Constitution will have to done over.
On January 20 the Lodge 456 office will be accepting any further nominations from the membership. Nominations will be accepted from 8 a.m. until Noon and from 4 p.m. to 8 p.m.
Airbus-Bombardier and guaranteed jobs until 2041
Montréal, QC – "The finest aircraft to be have been developed in the past 30 years is now affiliated with a major global aircraft manufacturer," said IAM Québec Coordinator David Chartrand. He was reacting to news late yesterday that Bombardier had sold a majority stake in its C-Series passenger jet program to European aerospace giant Airbus for no cost.
"A major player has now entered Québec's aerospace cluster, and we intend to do our part to make sure that it benefits the whole of Québec's workforce and economy," said Chartrand. The move comes after heavy duties were imposed by the U.S. Commerce Department against Bombardier, charging the Canadian aerospace giant was selling its C Series planes in the U.S. below cost while receiving government subsidies. The C-Series headquarters, Research & Development and production will remain in Montréal but a second assembly line for the 100-150 seat aircraft will be set up at Airbus's facility in Mobile, Alabama. This move may circumvent the duties imposed by the U.S. Commerce Department.
"It's clear that our members were feeling the pressure with the uncertainty hanging over the program," said IAM Canadian General Vice President Stan Pickthall. "We now have a strategic alliance with a major global manufacturer that guarantees the jobs of our members in Québec until 2041."
"Bombardier has tried over the past few years to achieve a strategic partnership," explained Chartrand. "They were unsuccessful in the past because the aircraft didn't have certification then, now it's in production and has won praise from customers, so the partnership was acceptable. We will benefit greatly from access to Airbus's supply network where we can purchase materials for less than we can now, and it gives Airbus the best product in the world in its class to offer to its airline customers. The partnership with Airbus makes us strong enough to weather the protectionist storms of the American market, keep a number of jobs in Québec and maintain the cohesion of our aerospace cluster."
The IAM represents more than six thousand employees at Bombardier.
Editor's note. Perhaps Boeing will not have to keep up their ad campaign about how much they love Canada
18/10/17
IAM Joins Rally to Protest Boeing Court Battle with Bombardier
Montréal, QC – More than 150 IAM members joined other unionized workers in a rally and March through the streets of Montréal to the US consulate to protest Boeing Aircraft's court battle with Bombardier.
Boeing has filed trade tribunal complaints and taken court action against Bombardier over the sale of 75 C-Series 100 commercial airliners to Delta Airlines. Boeing accuses Bombardier of being heavily subsidized by the Canadian and Québec governments which allowed the Québec-based aircraft manufacturer to dump the planes on the market at bargain rates. "Boeing's claim make no sense," explained IAM Québec Coordinator David Chartrand. 'Boeing doesn't make an aircraft in this category and it didn't make a bid for the Delta contract so their claim is groundless."
"If Boeing wins this case, the tariffs imposed on the C-Series would amount to 160 per cent and double the cost of the aircraft," Chartrand told demonstrators. "The C-Series is the most technologically advanced aircraft in its class and this court action would not only impact Canadian jobs but American workers too. The C-Series is flight tested at Bombardier facilities in Kansas and components for the aircraft are also manufactured there. This is nothing short of an attack on the Canadian aerospace industry and we will defend the jobs of our members. We must convince the US government that this is wrong and that's why we're outside their consulate today."
13/9/17
---

Get Your Favorite IAM Swag Online

You can now purchase your favorite IAM apparel online at MachinistsGear.com. With nearly 150 union-made products available, there is something to suit everyone's style and taste.
Apparel ranges from T-shirts, polos, dress shirts, jackets, coats, sweatpants, sweatshirts, hats and bags. Also available are miscellaneous items such as watches, rings, lapel pins, knives, badge holders and wallets.
MachinistsGear.com is equipped with the latest industry encryption for securing user data and credit card transactions. Visitors to the site have the option of creating an account for quick and easy transactions in the future.
Visit MachinistsGear.com today!
17/6/17
---
Celebrating 35 Years of Labor Education at Placid Harbor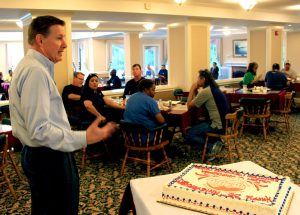 W. Winpisinger's vision of a full-time residential facility to educate and train members and staff in organizing, bargaining and leadership. That commitment of educating members remains today and is an integral part of the IAM's cultural DNA.
The first class, a two-week comprehensive organizing program held in a windowless classroom in the basement of the dining hall, was attended by 20 IAM staff from across the U.S. and Canada in the last week of October 1981.
Since the inaugural class, the Winpisinger Center has expanded to operating 47 weeks a year utilizing 114 guest rooms, five classrooms, two computer labs, six conference rooms, an auditorium and a theater.
Although physically, the school doesn't quite look the same as it did over three decades ago, the mission remains the same; developing union leaders of the future. The range of programs has grown more than anyone could have predicted, in both number and content.
During the first year of operation the school held three training programs and hosted 51 members. In 2015 the Center administered 139 programs, with more than 2,800 members participating. In total since opening in 1981, more than 90,000 members have completed programs at the Winpisinger Center.
"The Winpisinger Center is an integral part of the IAM and we all benefit from the vision our past leaders had for educating and training our members," said IAM International President Bob Martinez. "We are a better, stronger and more effective labor organization because of it. More importantly, our members are better served for having access to such a fine educational facility. Our focus is to continue to grow our membership through education."
Placid Harbor isn't the only part of the IAM that's changed in the last 35 years, so has the membership. Classes are now offered in three languages in order to give Spanish and French speaking members an opportunity to learn in their native language.
"We are very thankful to our leaders—past and present, and to our members who are dedicated to the continuing education of this great union," said William W. Winpisinger Education and Technology Center Director Chris Wagoner. "There is no other labor organization in North America that provides the level and scope of education that is offered at the Winpisinger Center."
3/11/16
---
Juno We Built That?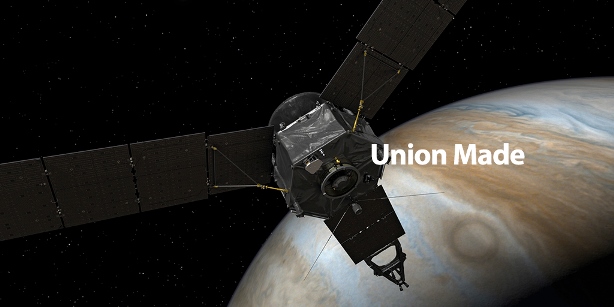 IAM members weren't just celebrating the United States' independence this July Fourth. The success of the Juno spacecraft reaching Jupiter's orbit, a mission the Machinists Union was an integral part of, gave us another reason to rejoice.
IAM members built and launched Juno, which reached its destination after a five-year, 1.8 billion-mile journey to our solar system's largest planet. Juno was built by Local 44 members at Lockheed Martin in Decatur, AL and launched, in 2011, by IAM Local 610 members at United Launch Alliance in Cape Canaveral, FL.
The spacecraft will soon become the first to see below Jupiter's dense cover of clouds. Juno will stay in Jupiter's orbit for the next 20 months, collecting data on the Gas Giant and sending it back to NASA to be studied.
Learn more about Juno's historic mission from NASA
9/7/16
---
Video Unveils True Labor Day Founder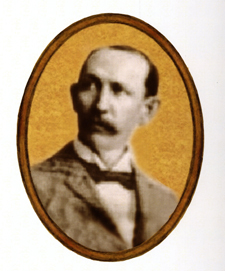 Former Secretary of IAM Local 344 in Patterson, NJ, Matthew Maguire, was thought to have been the founder of Labor Day.
Ever wondered who founded Labor Day? Well, word has always had it that the holiday, dedicated to honoring working men and women, was started by a Machinists member. A new video produced by the Machinists News Network investigates.
Click here to watch "The Real Labor Day Founder."
"There's this big question about Labor Day. Who founded Labor Day?" said Carl Fillichio, a U.S. Labor Dept. Spokesperson. "There's a debate over two men, with the same last name – Maguire. The first is Peter McGuire. He was a founder of the United Brotherhood of Carpenters and later was a founder of the AFL, with his very good friend Samuel Gompers."
"But lately," continues Fillichio, "there's been a discussion that the real father of Labor Day might actually be a Machinist named Matthew Maguire."
Matthew Maguire was a machinist by trade before the IAM was formed, but later served as Secretary of IAM Local 344 in Patterson, NJ. He also served as Secretary of the Central Labor Union in New York.
Click here to watch "The Real Labor Day Founder" and find out which Maguire is the true founder of Labor Day.
31/8/14
---